We are celebrating!!
Recently Ainslie Parklands Primary School has been identified by the Education Department as a school of influence due to our excellent NAPLAN results!
Congratulations to our hardworking students and teachers!
Come and see how we develop confident, creative and curious thinkers through our commitment to academic excellence, valuing life-long learning and embracing the outdoor classroom
Welcome to Ainslie Parklands Primary School
Located in the outer eastern suburbs of Melbourne, Ainslie Parklands Primary School is a caring and collaborative learning community. Students, families and staff work closely together as we strive for academic excellence, foster social and emotional development and celebrate creativity. We support our students to articulate and demonstrate our school values of respect, responsibility and resilience in all they say and do.
Ainslie Parklands Primary School has a strong parent community, who are actively involved in their child's learning and the school as a whole. The community also has a wonderful diversity, which is a strength that we acknowledge and celebrate, with many families travelling some distance to make APPS their school of choice.
APPS F-2 Museum Inscursion 2022
he Ainslie Parklands PS F-2 students had an amazing excursion to the city. We travelled on the train from Croydon, and walked to Melbourne Museum. It was a wonderful day! This video gives you a glimpse into our wonderful day!
MiniKids
Ainslie Parklands Primary School invites you and your child to attend a series of educational experiences that support their transition towards life at school.
MiniKids is open to all those children who are the age to attend 3 or 4 year old Kinder.
The next session will be held on Tuesday 26th July from 2.30pm-3.30pm. Please contact the school office on 9870 1566 to confirm your child's attendance.
View Flyer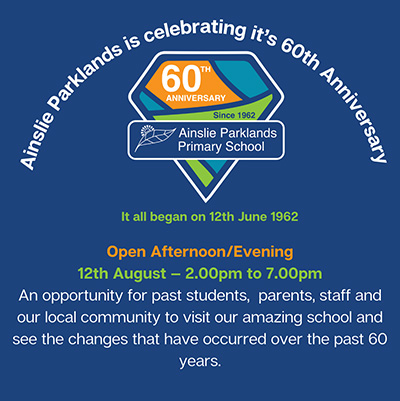 Ainslie Parklands 60th Anniversary
OPEN AFTERNOON/EVENING
12th August - 2.00pm - 7.00pm
If you are a past student, parent, staff member or have a connection to our school and you have a tale to tell, photographs, or a memory to share of your time at Ainslie Parklands Primary School, formerly Croydon West Primary School, we would love to hear your stories, see your pictures and share your experiences.
Please contact us at: 4879-APPS60@schools.vic.edu.au
Thank you for helping us grow the "History of our School" collection. We look forward to our year of celebration.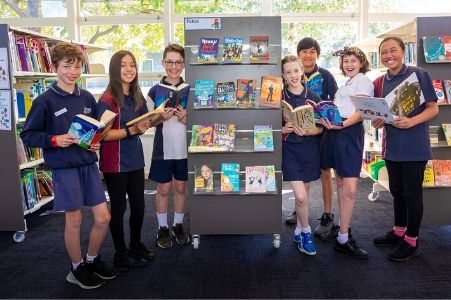 APPS Newsletter
Download the latest newsletter for Ainslie Parklands Primary School.
Published on Friday 12th August 2022.
An opportunity for past students, parents, staff and our local community to visit our amazing school and see the changes that have occurred over the past 60 years.
Locate Our School
Hinkley Ave, Croydon VIC 3136.
PO Box 8153, Burnt Bridge VIC 3136.